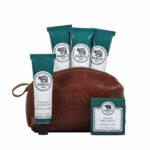 Travel Kit
Elegant Beauty Case in genuine leather, handmade by local artisans. It contains a selection of PARCO1923 body care products in the practical 40 ml size.
A refined Beauty Case customized with the Bear logo, symbol of PARCO1923. It contains everything you need for the shower and personal hygiene when you travel: the solid soap, the delicate bath foam, the nourishing cream for the body and hands, a shampoo and a conditioner.
Each travel kit is a unique piece because it is handcrafted with selected leathers: any small difference compared to the prototype is to be attributed to the particularity and material of the product, entirely handmade.
Volume/net weight: 200g
Weight: 300g
Size: 15x8x4cm
Sizes: 14x7x7cm 40ml bottles and 25g soap
Packaging: Leather pouch
Composition: 100% genuine leather handcrafted in Italy
Nessun prodotti visto di recente.