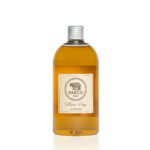 Refill for La Difesa Home Diffuser 500ml
Refill for La Difesa Home Diffuser 500ml
Refill of the room diffuser, to recharge the essence and prolong the duration of the fragrance of La Difesa, which is inspired by the flowery meadow surrounded by centenary beech woods where the Refuge was built. To be poured into the La Difesa glass bottle. Reeds in natural fiber are not included.
Wood sticks are not included in the recharge, add them to your order!
The air freshener leads to a lush meadow covered with tall grass and wildflowers, surrounded by centuries-old woods which have been designated a World Heritage Site by UNESCO. In the clearings shaded by the trees, the rare Iris Marsica grows, a unique variety of iris, which gives off a delicate powdery scent. The unforgettable fragrance of this wild flower is combined with a bouquet of white flowers resting on a background of creamy woods, punctuated by hints of blackcurrant, with a sour and sugary aroma. There is a slight hint of ash, evoked by a faint smoky note, which recreates the atmosphere of the fountain located near the shelter where in the past housewives used to clean the linen using the ash from the fireplace.
Volume/net weight: 500 ml
Weight: 500 gr
Size: 7 x 17 cm
Maintenance tips
For the first use it is recommended to let the natural wood sticks soak for about two hours in the liquid and then turn them over. Depending on the desired intensity and on the size of the space, it is suggested to turn the sticks once / twice a week, at will. For greater diffusion, the room fragrance can be placed at a height of man and in a passageway: the air will be the conductor of the olfactory particles, helping to spread the fragrance with each movement.
Warnings
H225 – Highly flammable liquid and vapour. H317- May cause an allergic skin reaction. H319 – Causes serious eye irritation. H412 – Harmful to aquatic life with long lasting effects. P101 – If medical advice is needed, have product container or label at hand. P102- Keep out of reach of children. P210 – Keep away from heat, hot surfaces, sparks, open flames and other ignition sources. No smoking. P302+P352 – IF ON SKIN: Wash with plenty of water and soap. P305 + P351 + P338 – IF IN EYES: Rinse cautiously with water for several minutes. Remove contact lenses, if present and easy to do. Continue rinsing. P333+P313- If skin irritation or rash occurs: Get medical advice/attention. P337 + P313 – If eye irritation persists: Get medical advice/attention. P501 – Dispose of contents or container in accordance with local,national regulation.
Contains benzyl salicylate; reaction mass of 1-(1,2,3,4,5,6,7,8-octahydro-2,3,8,8-tetramethyl-2-naphthyl)ethan-1-one and 1-(1,2,3,4,6,7,8,8a-octahydro-2,3,8,8-tetramethyl-2-naphthyl)ethan-1-one and 1-(1,2,3,5,6,7,8,8a-octahydro-2,3,8,8-tetramethyl-2-naphthyl)ethan-1-one; hexyl cinnamal; linalool; hexyl salicylate; (ethoxymethoxy)cyclododecane; isoeugenol.
Nessun prodotti visto di recente.