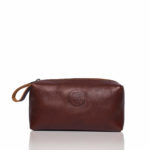 Beauty Case
Elegant Beauty Case in genuine leather. Handmade in Abruzzo by local artisans, it comes with the Bear logo, symbol of PARCO1923.
A refined Beauty Case to contain everything you need on the go, thanks to its rounded shape and flat base it can easily be placed in a luggage or bag. Each case is a unique piece because it is handcrafted with selected leathers: any small difference compared to the prototype is to be attributed to the particularity and the materials of the product, which is entirely handmade.
Sizes: 20x7x10cm
Packaging: 100% real leather made in Italy
Nessun prodotti visto di recente.