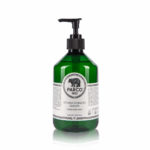 Gentle Body Wash
Gentle body cleanser formulated with plant extracts from the Abruzzo National Park, in contact with water it produces a thin layer of foam that deeply purifies without dehydrating the skin.
Developed from an ancient herbal recipe for the preparation of a relaxing bath, the delicate body wash by PARCO1923 takes care of the body skin and it is suitable even for the driest and most sensitive one. Enriched with Juniper and Birch berry extracts, known for their balsamic and sebum-regulating properties, the bath foam normalizes the skin and purifies the pores. The addition of phytotherapeutic extracts of Angelica, Honeysuckle and Aquatic Mint, with refreshing and decongestant qualities, relax the muscles and tone the skin, giving a feeling of intense well-being.
The perfume of PARCO1923 is enhanced by the vapors of the water, recreating a soothing and revitalizing wellness effect to be enjoyed every day.
Volume/net weight: 500ml
Composition: Acqua,(water), sodium laureti sulfate; cocamidopropyl betaine; parfum (fragrance); sodium; laureth-11 carboxylate; glycerin; sodium chloride; lactic acid; phenoxyethanol, benzyl alcohol; potassium sorbate; benzyl salicylate; hexyl cinnamal; butyphenyl methylpropional; citric acid; betel alba leaf extract; junipers communist fruit extract; menthe acquatica leaf extract; coumarin; lonicera caprifolium (honeysuckle) extract; angelica archangelica extract; tocopherol
Does not contain: Silicons, Mineral Oils, Parabens, TEA, DEA, Synthetic colors
Notes: Dermatologically tested
Nessun prodotti visto di recente.