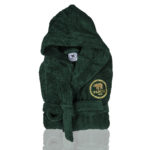 Bathrobe
Warm and enveloping, the bathrobe in the iconic green color and embellished with the PARCO1923 bear logo is a cuddle to indulge in after a bath or shower.
The PARCO1923 bathrobe represents the elegance of a place that has stood still in time in a high quality pure cotton garment, sewn in Italy as in the best artisan tradition. Heavy and soft like a bear's fur.
Composition: Spun 16/1 combed makò, 100% top quality pure cotton, 550 gr m2 finished
Notes: Internal and external double curl, which guarantee the best drying
Nessun prodotti visto di recente.